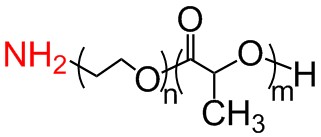 Product name:
PLA-PEG-NH2
Product packaging:
1g (can be customized according to requirements)
Product details:
Appearance: solid or viscous liquid according to molecular weight;
Solubility: soluble in chloroform, dichloromethane, acetone, DMF, DMSO and other organic solvents
Storage: store at minus 20 degrees, dry and keep away from light. Avoid frequent thawing and freezing.
Stability: 12 months, 20 degrees below zero.
Molecular weight (PEG): 2000、3400、5000, other molecular weights can be customized.
1. The molecular weight of polyethylene glycol (PEG) and polylactic acid (PLA) segments can be synthesized according to customer requirements;
2. Some small amino groups can be used in the synthesis of some compounds;
3. The polymers are soluble in chloroform, dichloromethane, acetone, DMF, DMSO and other organic solvents;
4. These polymers are generally used for the preparation of polymer micelles and nanoparticles;
5. We can provide technical support according to customer requirements.
Note: the products sold by our company are only used for scientific research, not for human experiments or human treatment.
Based on the business model of independent research and development, production and sales integration, the company's products have obvious price advantages compared with similar products on the market. In addition, we also provide professional product customization services.
For other products, please contact us:
Telephone: 023-62795528
Customer service hotline:
18896157519, QQ: 3354316092
19923757617,QQ:3279537175
17725012670,QQ:3492925539
Similar products:
PLA
PLA-PEG
PLA-PEG-NH2

PLA-PEG-MAL
PLA-PEG-COOH
PLA-PEG-NHS